The Clasp on the watch is absolutely fake, The font is too small, and it looks laser inscribed and not molded.
Also the font of Breitling on the front is too small. Also the bezel on the authentic piece has sharp pointy edges, the watch on the ebay auction has flat edges on the bezel.
Check out the Datora in the models database and compare for yourself.
Becareful though, the seller is smart and doesn't state in the auction that the watch is authentic from the start. So if you buy it then find out it's fake he will say he never knew if it was the real thing, and didn't say it was the real thing in his auction.
PS - I am assuming he has a authentic real Breitling that he is using to give the papers and warranty for this auction. Since he states in the auction that he has the warranty and certificate, but they do not match the back of the fake watch. Basically the seller is admitting to the viewer that the watch is fake, without actually saying it in those words.
http://www.breitlingsource.com/watch_de ... r_108.html
AUTHENTIC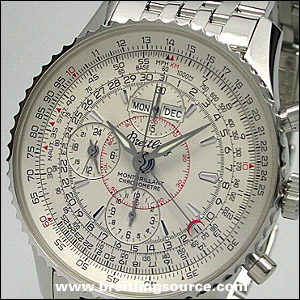 COUNTERFEIT