Note - this review has been taken from my own webspace and the original can be viewed here:
http://designmjc.com/aero.htm
I no longer own the Aerospace but enjoyed it while I had it.
Breitling Chronometre Aerospace - Review
The model reviewed is the Ti on Ti with blue face and is from 2001 and a superquartz. Since it is post 2000 it is a certified quartz chronometre. Breitling is one of only a few watch companies that get their quartz models chronometre certified and as such have to pass the same stringent tests as their mechanical counterparts, but being quartz must maintain a much higher accuracy. It has been stated that:
"Quartz movements submitted don't have to pass the "same" tests as mechanical watches, they have to pass much more stringent tests that would destroy a mechanical watch. The 11 day, 11 night testing for a quartz chronometer involves thousands of 100G shock tests from 6 different directions, strong magnetic field testing, and extreme temp testing. And the required daily rate varriation can't exceed 0.07 seconds per day over the course of the test."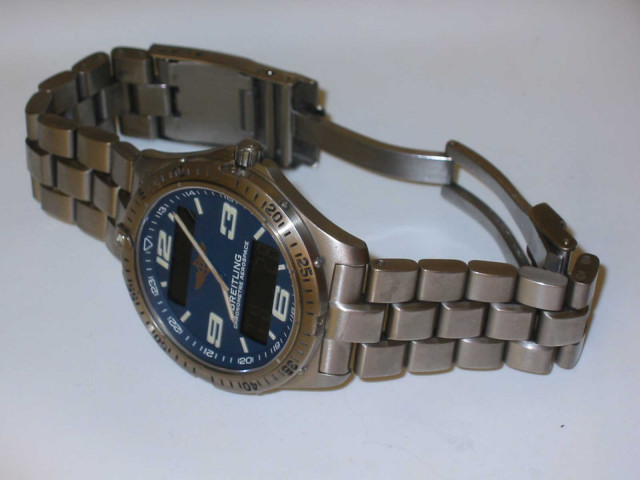 Fig 1: Aerospace with Professional Ti Bracelet
The digital features of this watch are:
* Local Time (hh:mm:ss) and analog without second hand
* Date + Seconds display
* Date + Date display
* Alarm for Local Time, repeating if not cancelled
* Chronometer - simple count up with stop/start, 100th seconds for first hour, seconds after that, up to 48h00m00s
* Count down timer with alarm, from 23h59m59s down to 1s, alarm with repeat if not cancelled
* Second Time Zone (hh:mm:ss)
* Repitition Minutes - time chimed out if crown depressed when time is digitally displayed

Also has hour and minute analog hands, the minute hand jumps every 30s. Sometimes this becomes un-synchronised with the actual seconds as displayed by the digital time. Often known as the, 'floating hand' effect. My aerospace used to exhibit this, but now doesn't. I managed to fix it by re-synchronising the hands with the timesignal a few times.
If you do need to set the time, to the second, this is very easy to accomplish - by waiting until near the time signal, within one minute, pulling out the crown with the digital time displayed, then depressing the crown again so the digital seconds flash. Then depress the crown again when the timesignal indicated 00s and the seconds are synchonised. Easy!
Accuracy is very good, typically 3-4s gain every 6months. Well within SQ accuracy. So in fact it doesn't need resetting often.
To move the hour hand forward a timezone, simply rotate the crown fast with the crown out with the time displayed. If the minutes get incremented,
don't worry
- these will resynchronise when you depress the crown again - a hidden, very useful, feature. (The minutes can easily increment by mistake if the crown is rotated too slowly.)
This watch is incredibly easy to operate, since it is all done through the crown. I think this is one of it's main selling points.
It is a thin watch at 9.80mm, diameter 40.00mm, weight 34.30gr (B-1 is 95.70gr). But being Titanium is strong.
It's thin enough to fit under any shirt.
The styling is distinctive, setting it apart from any other digital watch, some would say a classic. The face is exceptionally easy to read, with a very uncluttered face.
Hands and markers and numerics are all luminous making it easy to read in the dark all night long.
Great travel watch having all the functions you will need.
100m water resist so you can swim without fear with this one. I certainly have, and will again.
Slighty longer battery life expectancy than the B-1, probably because it does not have a back light.
Alarm is quiter than B-1, but good enough to be an alarm to wake you up in the morning. I think the SQ version may have a slightly louder alarm than the earlier versions, but cannot say this for sure.
This watch comes highly recommended. And complements the B-1.
Pictures: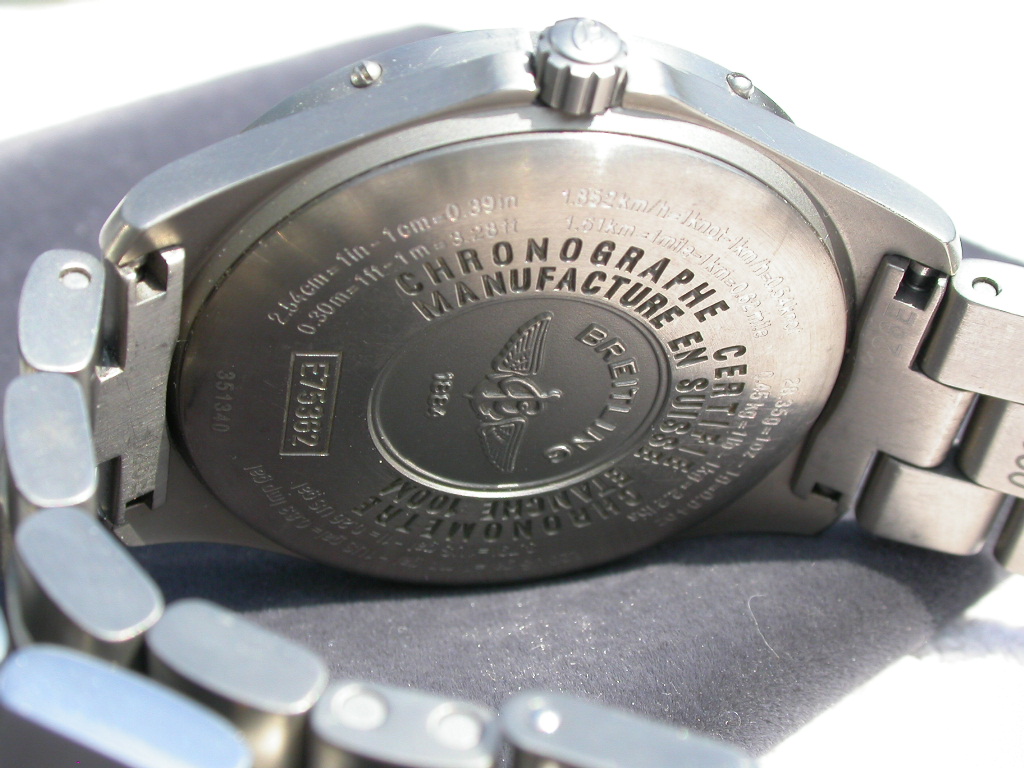 Fig 2: Back of Aerospace showing engraved conversion factors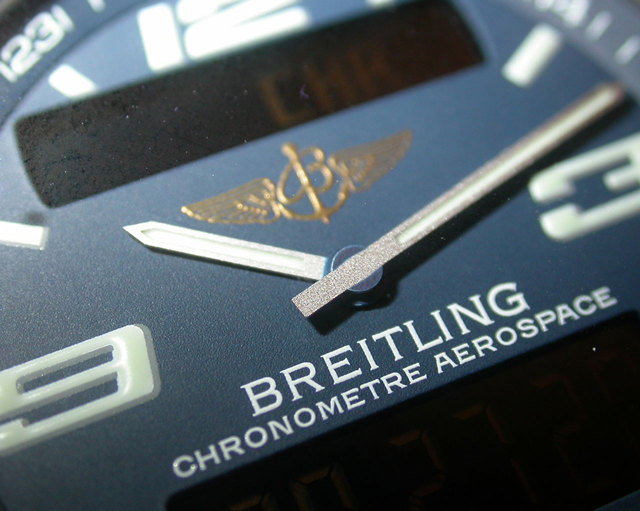 Fig 3: Detail of face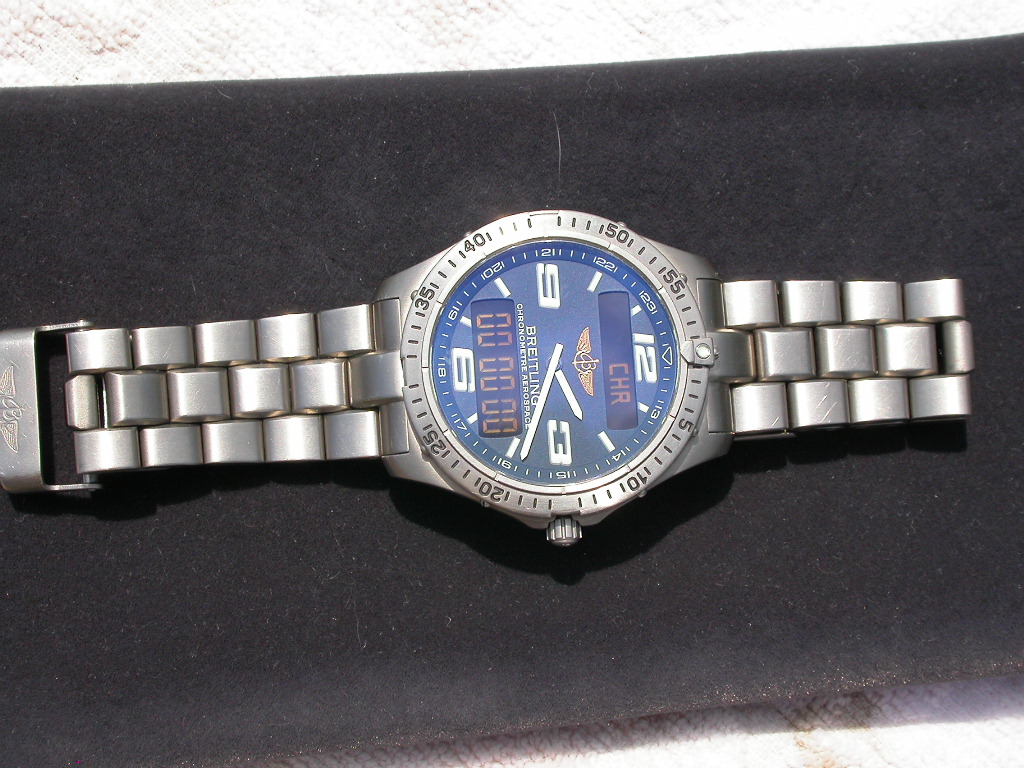 Fig 4: In the sunshine
(end of review)
_________________
Martyn Surrey, UK
Patek 5146J; Rolex AirKing; SD 16660; GMTIIC; Omega Seamaster 300m Quartz ; Breitling B-1