Here are some pics and history where Fred ended his post
viewtopic.php?f=1&t=56431&p=400694
As Fred has recently shown the huit 8 Avation history with several ref 765 models , lets start in 1952
In 1952/1953, the unproven rumors go, Breitling was in intense negotiations w/ the French Airforce and the AVI was developed based on the ref. 765, adapting the 30 minute counter to 15 minutes and adding the 12h bezel – prototypes or a small series were delivered and then the political connections of Breguet/Vixa changed the tender specs to add the flyback functions and Breitling lost the contract. Unsubstantiated, unproven and probably unprovable today, as most corporate documents were not passed on to the new trademark owner, Mr. Schneider. Probably still lying somewhere in a safe
As these AVI's were quite a bit more expensive than the Navitimers (and later the Cosmonaute's) they are much rarer as much fewer of them were sold. I can only assume the Navitimer also appealed more to pilots than the AVI's as the Navitimer had an extra very important feature, the now world famous circular sliderule.
As a result approx. 1000 of these watches were made , with various small changes from year to year , from 1953 to 1958 so roughly 120 pcs per year
Then another 1000 pcs with all black dials in each year thereafter '59, '60, '61 and then '62
The very first Iteration of the 765 AVI with date window aperture 15 minute counter . We know this is from early 1953 as it does not have 'Geneve' on the dial and Breitling moved to Geneve in the 2nd half of 1953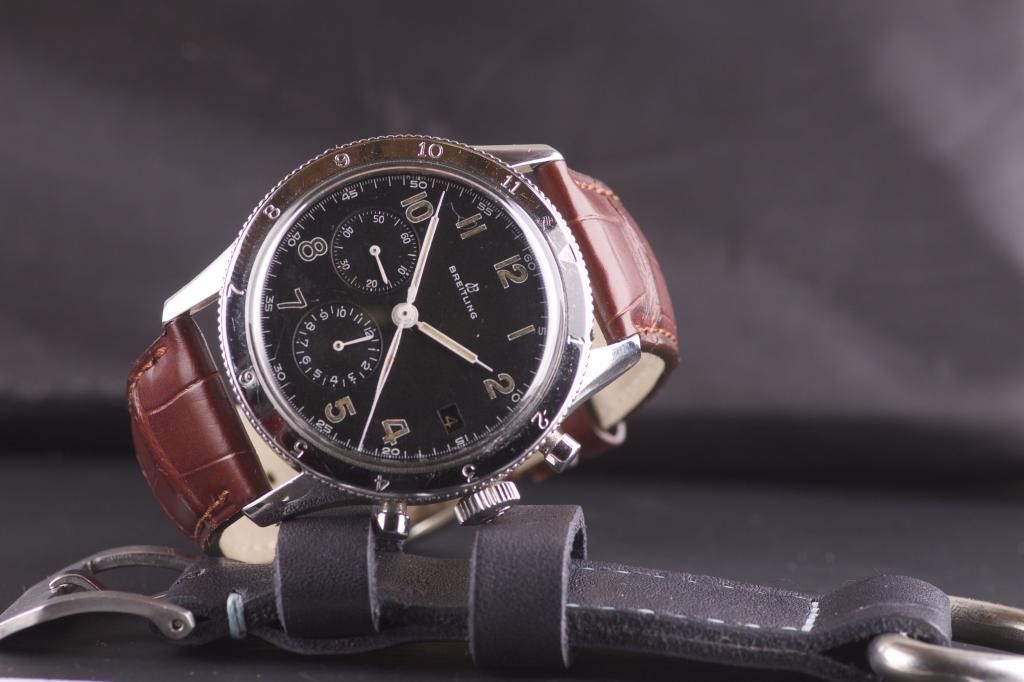 while Breitling produced these wonderful pieces with the date window aperture 15 minute counter, they also released some with 'normal' subdial 15 minute counters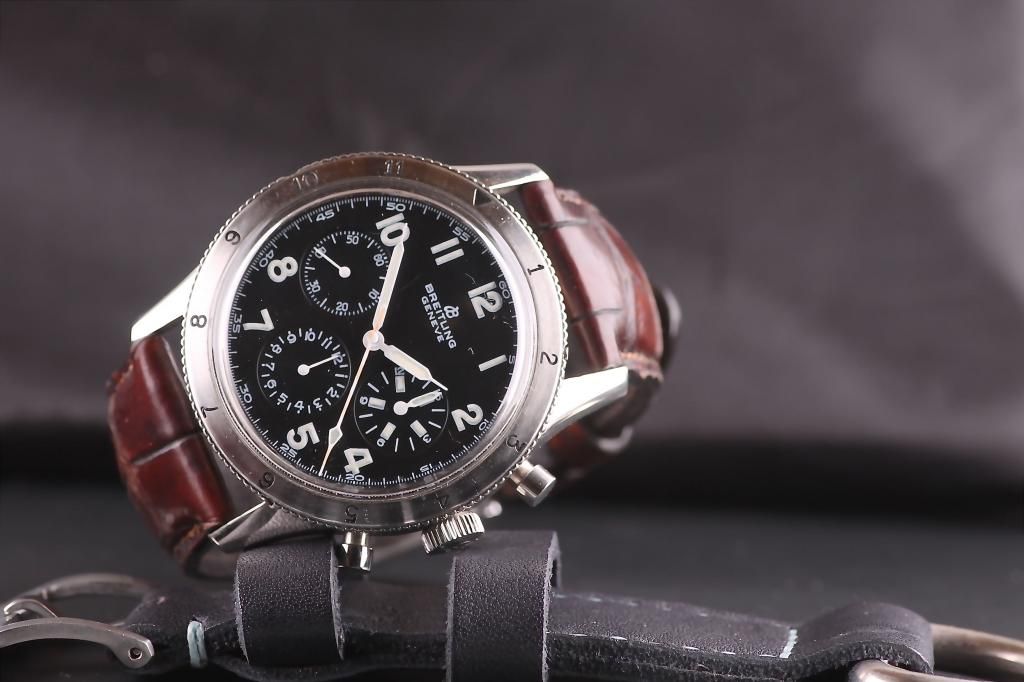 Some of the watches I have also have an extra number engraved on the back below the 'AVI' stamp. One Owner was told by the original watch owner that this is a serial number from the Italian airforce. If this is correct , and I have no reason to doubt it, there are All black AVI's out there that were purchased by the italian airforce .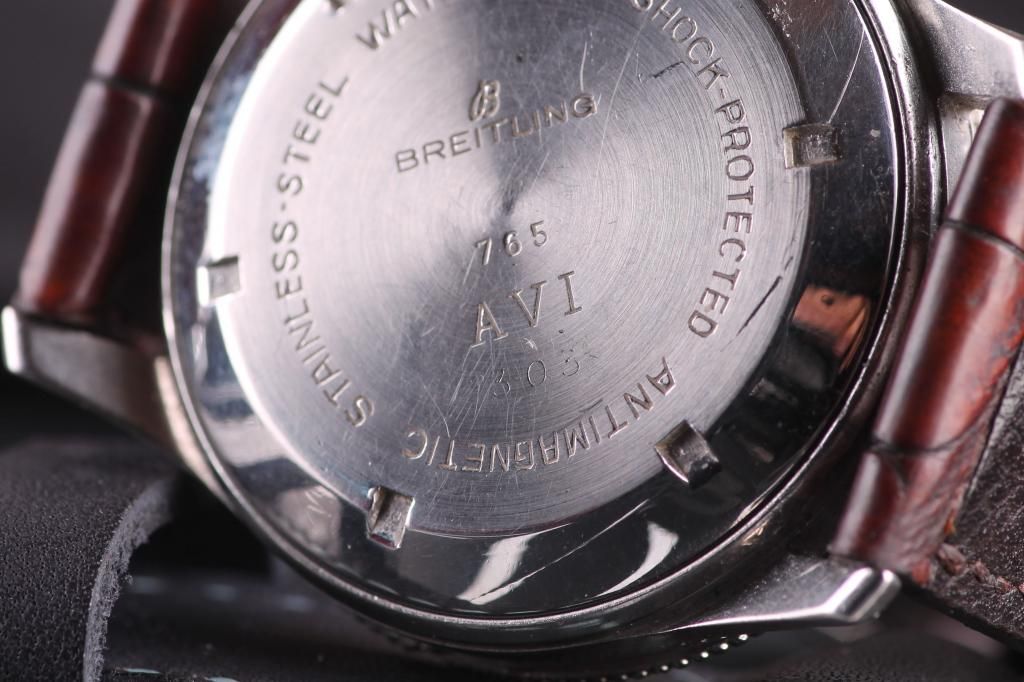 A 1960 Variation , recently completely restored by Mark and Theresa Heist in PA. (horological svcs.)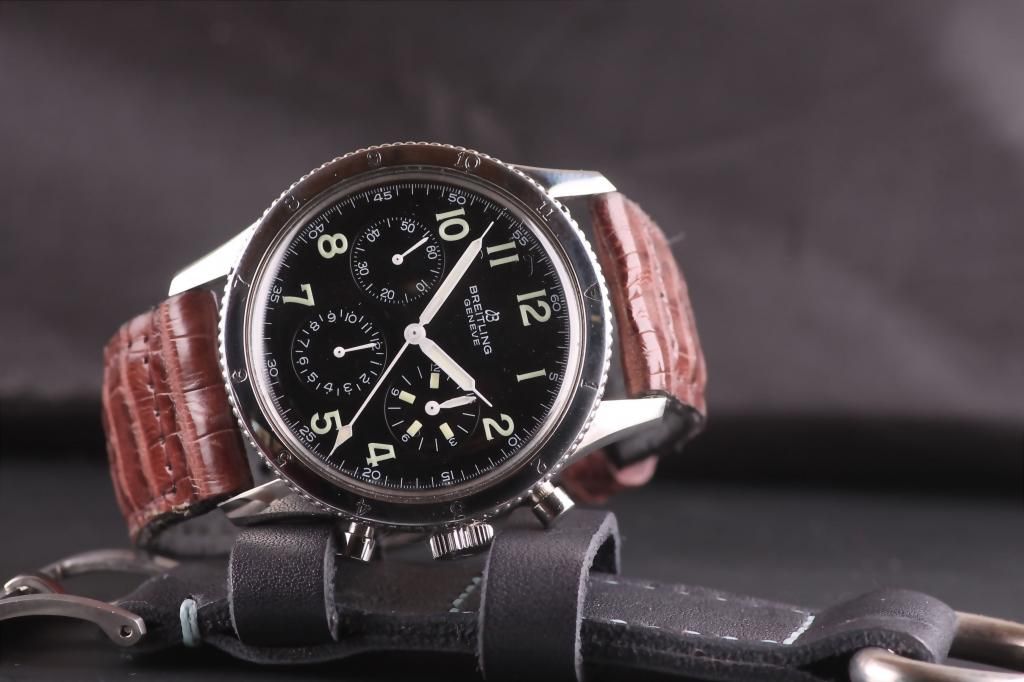 and a 1960 one with the 'date window minute counter'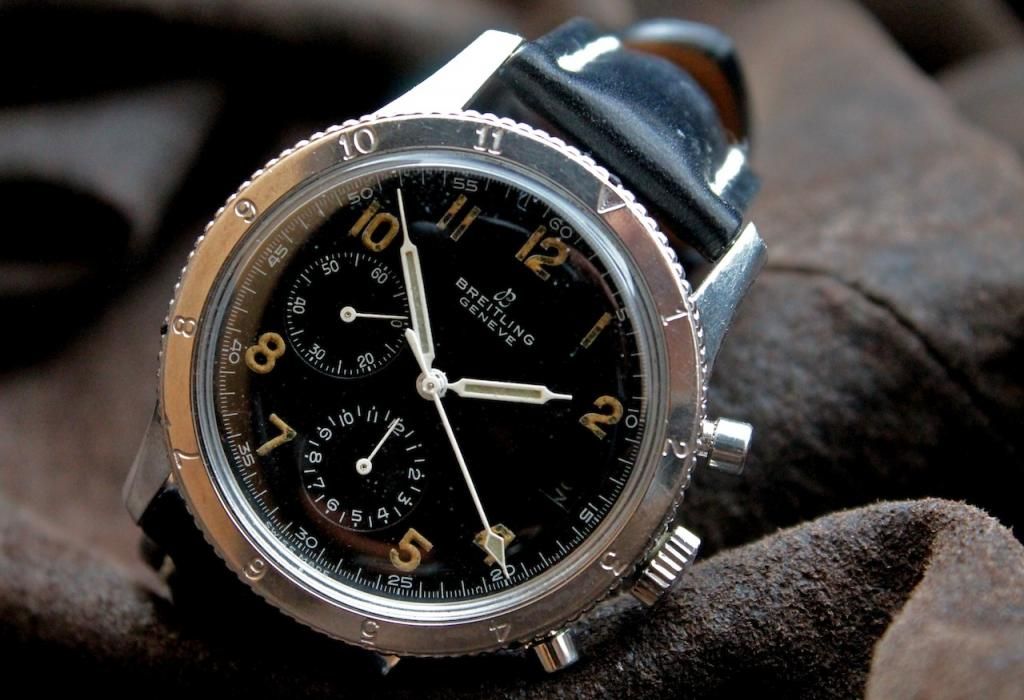 1st half 1962 AVI 765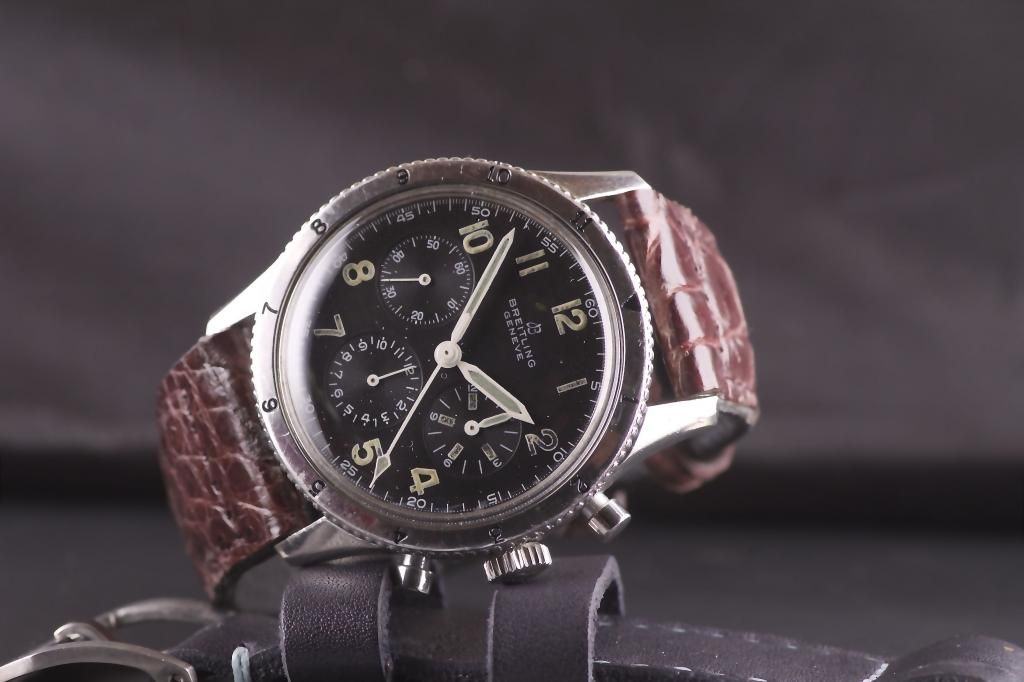 2nd half 1962 AVI 765 , the 'Rachel Welch' version as worn in Fathom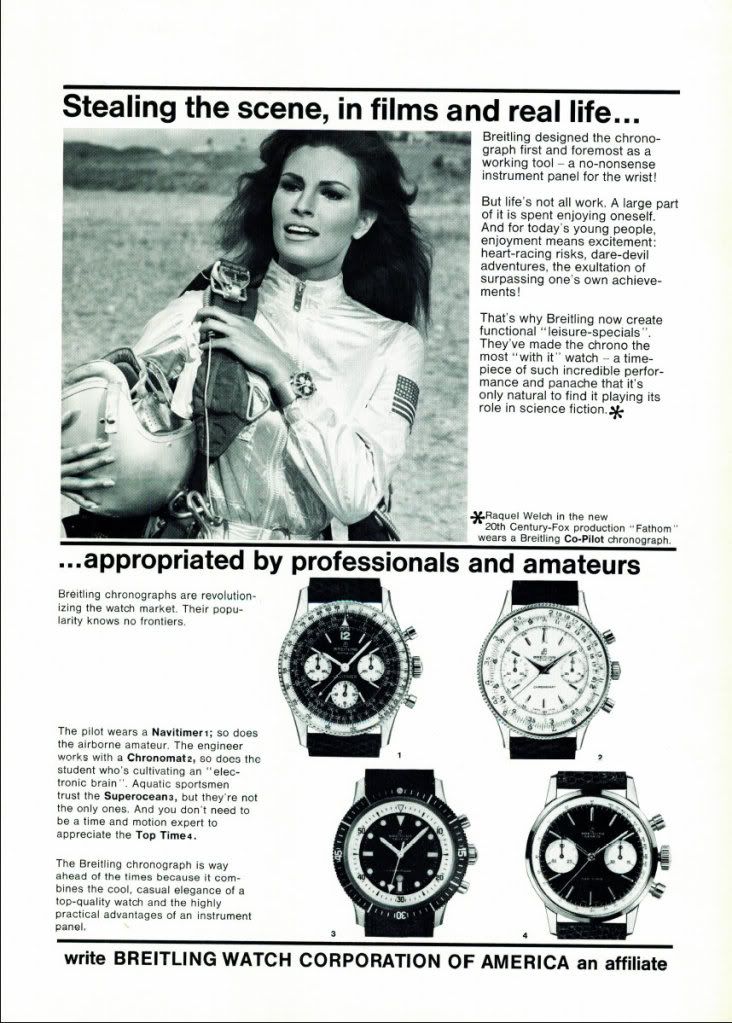 The 1964 leaflet in french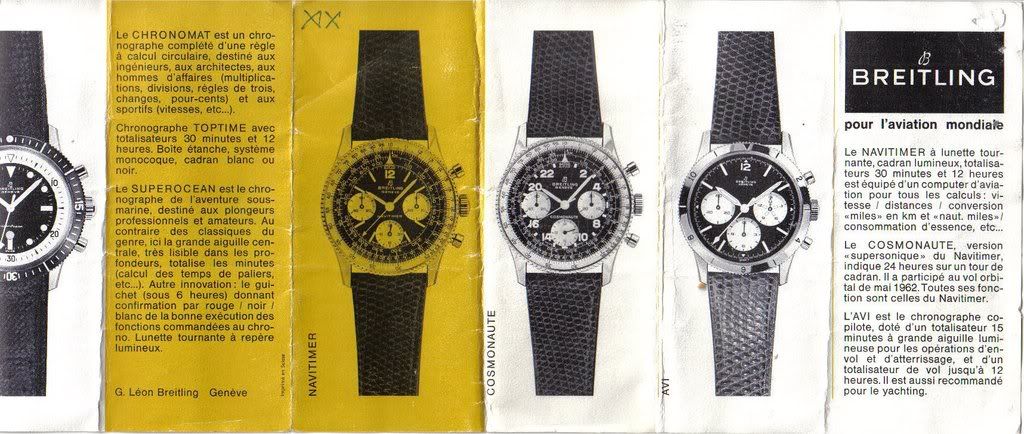 and then in 1965 Breitling released a new version , the CP or 'Co-Pilot' with several different bezels to choose from . A Yachting with a stunning dial with red and blue accents, the 'normal' one with black bezel and a rarely seen version with dual graduated bezel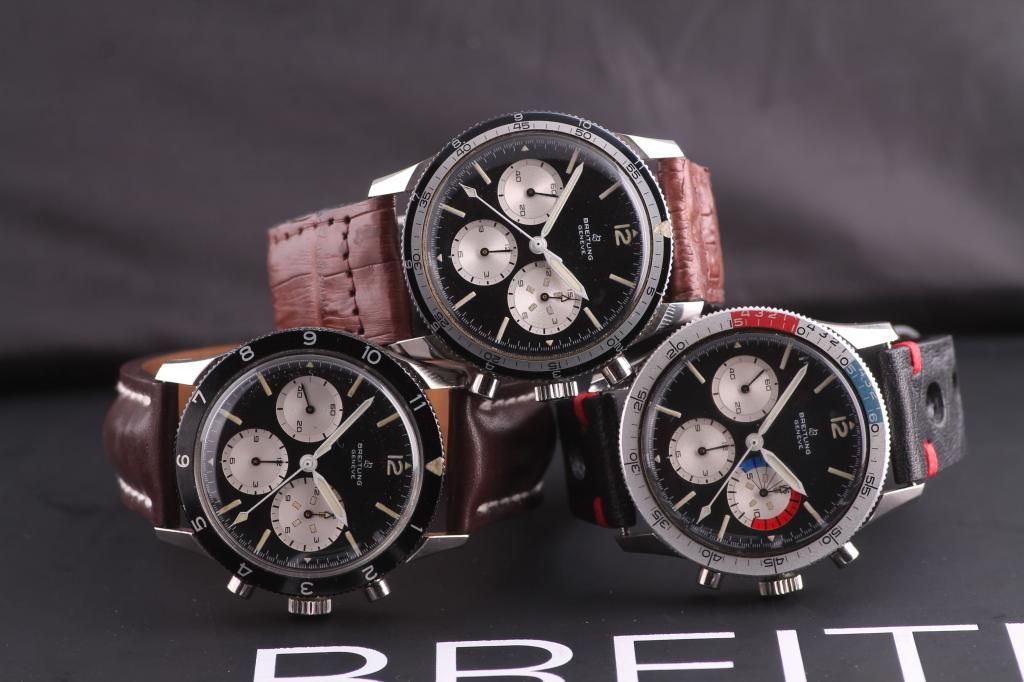 And the last version that I am showing here today , the 1765 Unitime a wonderful 24hr model with a far more readable dial than the Cosmonaute from 1968