Since there seem to be a bit of controversy around my post and people don't believe me here's a bit of extra info as to how I come to my 'this is a reprinted dial' conclusion
And for the record , I am not closer to the fence , if anything it convinced me more its a reprinted dial
Ok , so I am going to focus on the Breitling print first and later I will take the whole dial with KS branding in consideration \
1) I put both scripts (of a know good 1950ies 788 which seems to be an equally rare watch ) above each other and took a screen shot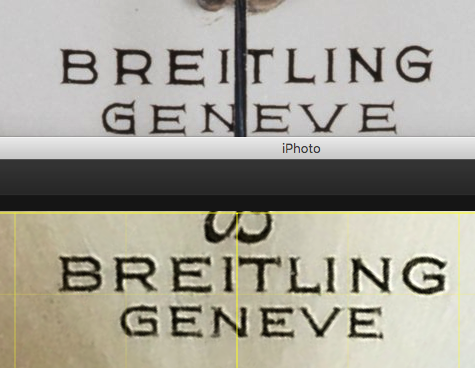 2) now before we go much further , look at how the 'Geneve' is positioned under the Breitling , and please compare yourself with hundreds of Breitling watches on the web that have 'Breitling Gevene' on the dial below each other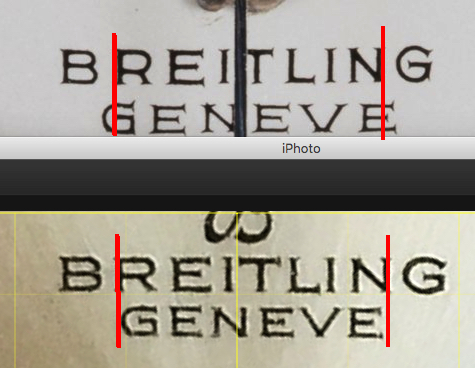 this by itself should be quite convincing ?
3) so more inconsistencies
bottom of the V sudden different from all others I have seen (and please remember the 788 I used as an example is just as rare as the 734 so IMO this negates the 'its a small production run' differences as the 788 is spot on and consistent will all others with this particular script on the dial)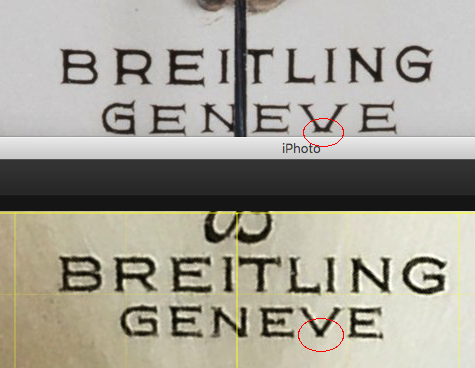 4) R & G completely different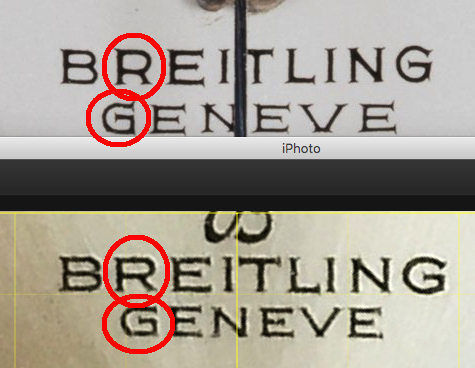 5) where do all of a sudden come the very pronounced serif's from on the 'Geneve' ?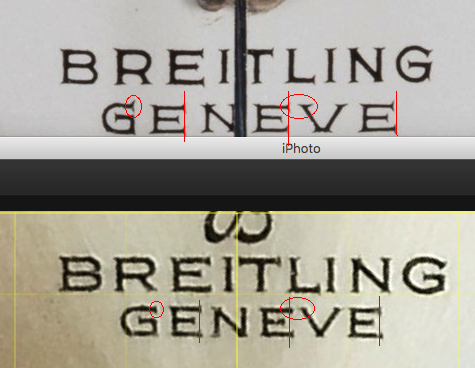 ok , so that is the Breitling Geneve script , lets look at the whole dial
first it was suggested that this was a virgin (blank) dial that KS had their logo printed on and that that printer then proceeded to print the breitling logo on it
I don't agree with this hypothesis as we have seen several other KS branded watches that did not have Breitling on the dial , why would they do that with this one and not others ?
KS probably had the right to put KS on the dial , but to put Breitling on the dial as well ? , very doubtful
second , the dial is pristine white , so white in fact that there no longer is any play of light on the circles of the subdials , its like it was painted matte ? . A premier typically has a beautiful dial , full of light play on the dial as well as on the subdials , this one however doesnt
third , its a non waterproof chrono from the 40ies / 50ies , and not a single trace of moisture on the tachy ring ? , circumstantial , I know .. but still
For a printer its quite easy to find a high resolution KS logo online and make a KS litho out of that , the Breitling Geneve script however ? , not so easy , please remember that that script is the biggest giveaway for reprinted dials, they never get it quite correct , same as in this case
Now add all of this to an assumption that the watch was completed post 1953 and therefor has geneve on the dial ?
as said , I am not convinced
"Now" someone asked "would the watch be more convincing if it didn't have the Breitling Geneve on the dial ?"
hmmmm… maybe , but only if it wasn't that matte stark white and had some age to it . And even the Breitling watches with only the KS on the dial have that fine and beautiful dial that Breitling produced at the time , none of this matte white